TACITUS - Critical Communications Multimedia Recording
Documentation of telephony, radio, video, data and images: The Next Generation of Voice & Data Recording
Whether in the airport tower or in the rescue control center, entirely voice recording is no longer sufficient in many areas of operation. More and more laws and regulations require that communication and information from numerous, different sources be recorded and archived centrally. The solution for this is called Multimedia Recording, or MMR for short. 
This is the new technology behind securely recording and documenting workflows and critical processes.
What is Multimedia Recording?
MMR combines several technologies and methods in one system. It can be used to capture, store and synchronously replay information and data from various sources in real time. These include:
Radio traffic

Telephone calls
Video conferences
Screen content
Video surveillance content
Data telegrams
Alarm systems
PA systems
Database queries
and much more
How does Multimedia Recording work?
Multimedia Recording & Playback systems capture signals and information in parallel while in real time from multiple different sources. Regardless of analogue or digital, signals and data can enter the system with no problem – an MMR can capture, process, synchronize and back up all of them.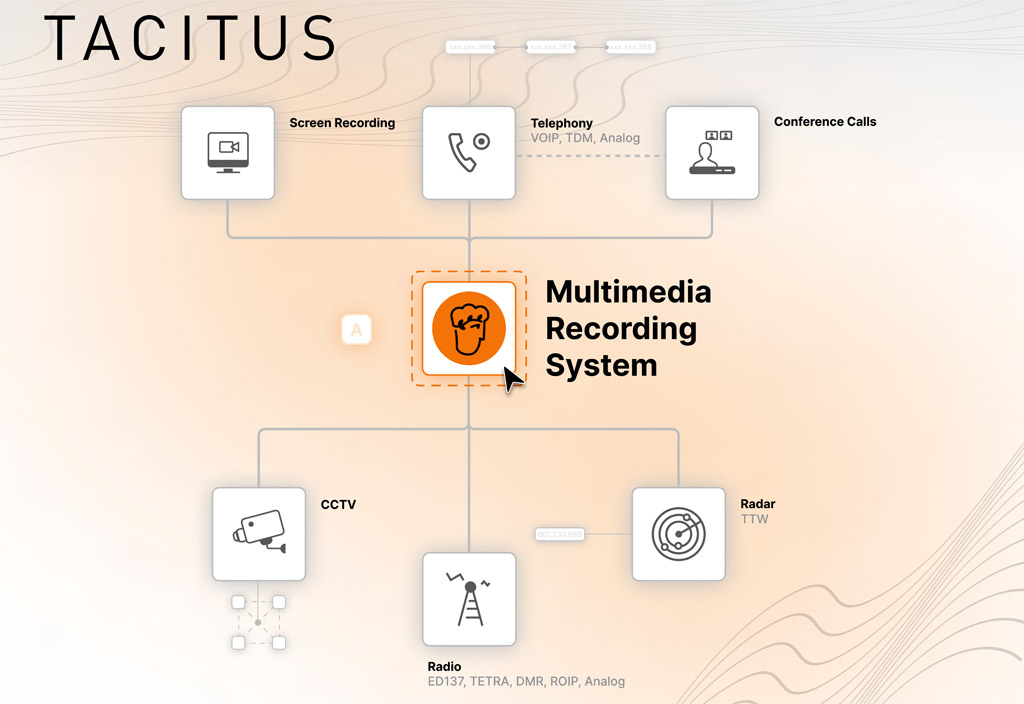 Multimedia Recording brings these different approaches together in one central system:
Phone Recording
Calls – incoming and outgoing – from individual telephones (analogue, digital or VoIP). as well as from complex telephone systems (PBX/PABX) and Call Center applications can be recorded at the push of a button or automatically. Telephone conferences can also be documented in this way.

Radio Recording
Another area of application for voice recording is in the field of radio traffic. Analogue radio systems, trunked radio (DMR, TETRA) or IP-based radio systems (RoIP) are recorded. This makes it possible to reconstruct the process of conversations and information.
Ambient Recording
Ambient Recording involves recording ambient noise – for example in control centers and ATC rooms – in order to document any interference.
Through the Wall Recording
TTW Recording captures the data streams generated by radar systems.
CCTV Recording
Recording of video content from surveillance cameras (CCTV), for example in public places or in critical environments.
On The Screen Recording
This refers to the recording of all screen content in order to document processes accurately. For example, in call centers or traffic control centers. In the field of air surveillance, this is referred to as At-The-Glass Recording (ATG).
Video Conference Recording
Video conferences are recorded completely or partially – regardless of whether Microsoft Teams, Zoom, Skype or another solution is used.

Multimedia recording is in demand in companies and organizations where critical areas need to be monitored, delicate processes optimized and employees controlled. The recordings are then used, among other things, for training, to improve work processes and as a means of fulfilling legal obligations to provide evidence.
Voice recording systems are still in use, for example, in the control centers of the police, fire department and emergency services, as well as in the service centers of financial service providers. But a change is on the horizon here: In the area of critical communications, there is to be central recording from various sources in order to have all data at a glance.
The same applies to critical infrastructures (CRITIS) and similar areas. For utilities, industrial plants, transportation and port operators, among others, it is crucial to improve security through more comprehensive controls and forensic analysis. That's because MMR systems can identify disruptive factors more quickly than before.
So-called Critical Communications Multimedia Recording is a broad field. TACITUS can be used for this, among other things:
Compliance Recording
Call Center Recording
Spoken Safety Communication
911 Recording
BOS Recording
Mission Critical Communication
What does the TACITUS system offer?
VoiceCollect's new TACITUS MMR system meets all of the above requirements. With its unlimited number of recording channels, distributed architecture and support for all popular audio, video and data sources, TACITUS is the ultimate solution for enterprises and organizations. And with its web-based playback management and configuration, advanced search and playback, and optimization for use on VM and standard servers, the Multimedia Recording System offers unparalleled ease of use and versatility.

Centers of excellence and omnichannel support

Banks, insurance companies and stock exchanges

Bus, metro, train and ferry operators

Power plants, wind farms and electricity grid operators

Public Authorities and Public Safety
Police, fire and emergency centers

Production companies and corporations
Any questions about MMR & TACITUS?
What are the hardware requirements? Which specific systems can be connected? What has to be considered during the setup? What does the new TACITUS MMR system from VoiceCollect offer in detail? How expensive is the purchase?
We will be happy to answer these and other questions in a direct conversation. Simply contact us without any obligation!