Multimedia Recording Systems for Critical Communications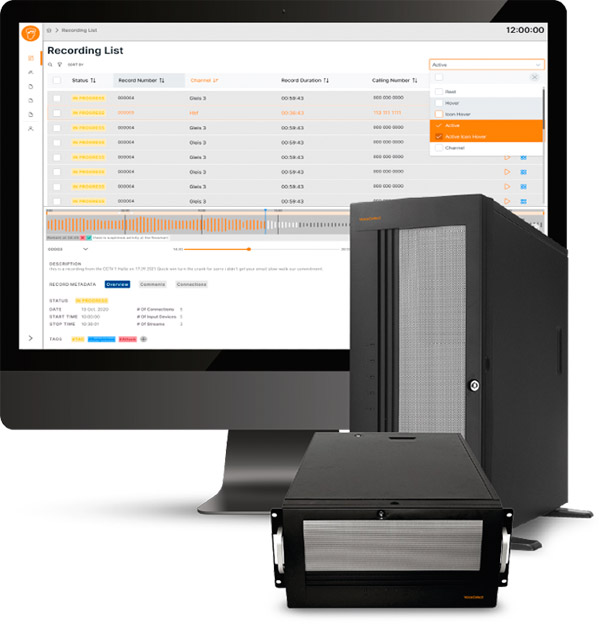 TACITUS | VC-MDx
VDS-II | RIAB-II
Multimedia recording for mission reconstruction in the field of critical communications and public safety
Airports, ATC service providers, fire brigades, police, rescue services, border guards, coast guards, transport and traffic: our products have been in use worldwide for many years. They offer a chronological reconstruction of events by replaying and analysing the recorded data using forensic evaluation functions. In this way, companies and authorities meet the increasingly strict regulatory requirements.
Always safe, reliable and comprehensible.
The VoiceCollect software and hardware supports TDM, VoIP, PBX, ED-137 communication, Atis internal radio, digital emergency call and more. With our multimedia recording systems, central recording from various sources is possible.

Customised voice recording components tailored to your
needs.

Onsite installation and setup of the multi-channel recording systems.

Introductions and trainings that are perfectly tailored to your system.

Routine maintenance of your voice recorder hardware to ensure long-lasting use.
Regular updates support when changing your hardware platform.

Air Traffic Control (ATC)
Airports and air traffic control

Ships, port operators, shipyards and docks

Bus, train and ferry operators, metro

Power plants, wind farms and electricity grid operators

Public Authorities and Public Safety
Police, fire and emergency centers

Production companies and corporations
Authorities and companies trust in our Critical Communications Multimedia Recording Systems
Tradition. Experience. State-of-the-art technology.
VoiceCollect GmbH develops, produces and distributes systems for central recording of different sources in one system. Our solutions are used around the globe in security-relevant areas, for example in control centres and command vehicles, in regional and international air traffic control as well as by energy suppliers and transport service providers.
As a sister company of ATIS systems GmbH, VoiceCollect GmbH can look back on a company history of over 75 years in the field of voice and data recording.